Navigating Care Coordination
The Navigating Care Coordination Series offers physicians and their teams an enriched, cross-discipline group learning experience focused on testing new approaches in care coordination. Participants will reduce patient care gaps and delays while improving information flow between primary and secondary/tertiary care. Primary care practices will choose and work closely with a referral partner (e.g. regional health authority programs, consultant physicians, community programs, etc.) serving a shared patient population to build a care coordination agreement. The agreement will be tested and optimized with existing healthcare team members and implemented within their practices.
Participation
Participants will engage with MQ physician experts and trusted advisors in a series of learning sessions and report-out webinars. Participants will have the assistance of a practice facilitator to test and implement practical changes during and between learning events.
Details about the program
This program covers the specific navigating care coordination "high impact changes" for primary care practices and referral partners, which will focus on panel management, care coordination and optimizing team-based care. Participants will have the assistance of a practice facilitator to test and implement practical changes during and between learning events.
Referral Partners
The MyQ team will actively support participants in the identification of a referral partner that will provide them with an opportunity to develop and apply new processes for referral management. Referral partners could include regional health authority programs (RHA), consultant physicians, or community programs.
Why Join the Series?
Build strong referral management processes.
Receive the right patient with information packaged in the right way.
Concentrate the work which referral partners are best suited to do.
Reduce re-work including unnecessary triage or oversight.
Build shared expectations for primary care, referral partners and patients.
Reduce unnecessary demand on care providers.
Successful transition of patient care back to family physicians including, consultation advice, guidance and agreements on managing care and re-engagement of consultant physicians.
Learning Objectives
By the end of this program, participants should be able to:
Discuss the current state of care coordination in NL;
List available resources relating to care coordination;
Create a list of common terms linked to care coordination;
Describe high-impact changes for care coordination and seamless transitions;
Synthesize patient stories and experiences of care coordination in the codesign of care coordination agreements;
Coordinate with a referral partner to test and implement care coordination change ideas within their primary and specialty practices using the model for improvement;
Develop a care coordination agreement between referral partners;
Explain how care coordination affects continuity and, subsequently, patient care and safety;
Share their experiences within the navigating care coordination learning series community about the opportunities and challenges to improve care coordination;
Describe to other practices and healthcare partners how they have successfully applied QI within their practice to improve care coordination;
Write a team action plan to sustain and spread care coordination improvements within their practices;
Demonstrate the value of celebrating improvement successes with the referral partnership team.
This one-credit-per-hour Group Learning program meets the certification criteria of the College of Family Physicians of Canada and has been certified by the Office of Professional & Educational Development, Faculty of Medicine, Memorial University for up to 18 Mainpro+® credits.
Program Schedule: November 2, 2022 – April 5, 2022
The Series has four half-day learning sessions spread over eight months and four Plan, Do, Study, Act (PDSA) calls to support your improvement journey.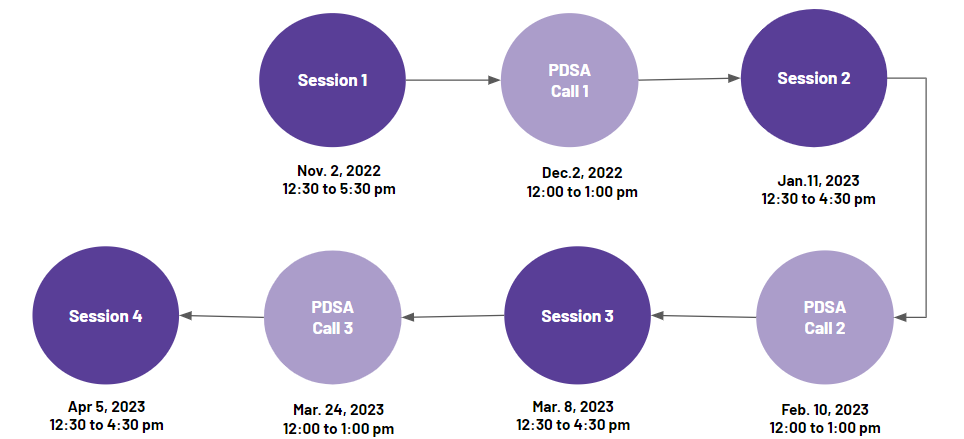 Registration for the program is limited!